In a world where hunger persists, Project Bread stands out for its commitment to ending hunger in Massachusetts. Founded in 1974, the organization has initiated numerous projects with substantial impacts on communities. It adopts a comprehensive approach, addressing both immediate food needs and the root causes of hunger and food insecurity.
Programs & Initiatives
Policy Work

Project Bread continues to advocate for policies that make food more affordable. See the policy initiatives they have supported and continue to move forward here.
Feeding Kids

Through advocacy and program work, Project Bread focuses on feeding kids in schools and over summer break with the goal of permanently breaking down any barrier to children receiving daily nutrition. In collaboration with schools, Project Bread's work in 2022 gave 239,106 children access to school breakfast. Their team conducted trainings and classes for 545 school nutrition staff across 10 districts in school year 2021-22, awarding a total of 1,108 professional development hours to participants.
Healthcare Solutions

As a partner in MassHealth's Flexible Services Program, Project Bread is treating food insecurity through the healthcare system to improve long-term patient health outcomes. This revolutionary pilot program allows Medicaid dollars to be used on "non-medical" expenses to address two social determinants of health — food insecurity and housing stability. Project Bread has served 9,500 patients to combat chronic food insecurity.
Community Engagement

Project Bread convenes people and organizations closest to the problems of food insecurity to co-create effective solutions. See their 2023 Community of Practice here. Since 2021, they have invested $700k in community-led hunger solutions.
Making Food Accessible

To dismantle barriers that persist between households and federal nutrition programs, Project Bread promotes them extensively through multi-channel, multi-language awareness campaigns, and helps individuals access them through compassionate direct service. Residents who call Project Bread's FoodSource Hotline receive personalized, compassionate help (in 180 languages) from our trained staff, who connect them to every food assistance program that is available and for which they are eligible.  In 2022, Project Bread received 20,611 Hotline calls and 4,750 Hotline callers requested translation services either through their bilingual staff or the language interpreter service.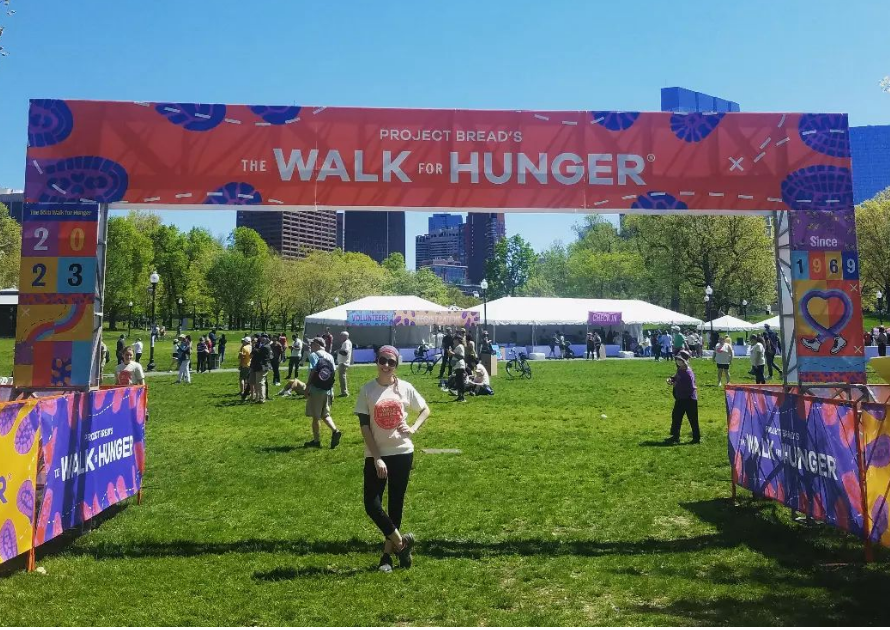 The Walk for Hunger
Each year, Massachusetts witnesses a remarkable event: The Walk for Hunger. This event, more than just a walk, is a powerful movement against hunger. Organized by Project Bread, it has become a symbol of solidarity, resilience, and community action in the face of food insecurity. 
As one of the oldest continuous pledge walks in the United States, The Walk for Hunger draws thousands to walk up to 20 miles, raising funds for hunger relief. 
The funds raised through the Walk for Hunger empower local food programs. These programs are lifelines for many, providing not just food, but hope and a sense of community. They cater to diverse needs, from children and families to the elderly and the homeless.
The Walk for Hunger also plays a critical role in raising awareness. It brings the issue of hunger to the forefront, encouraging conversations and driving advocacy efforts. Participants, volunteers, and sponsors alike become part of a larger narrative, one that demands attention and action towards food insecurity.
Each iteration of the Walk for Hunger helps expand the reach and variety of services offered by Project Bread. From innovative school meal initiatives to addressing summer hunger gaps through programs like Summer Eats, the Walk's impact is multifaceted.
How to Donate & Participate
Project Bread's efforts rely on donations and participation. You can donate online, participate in the Walk for Hunger, engage in corporate partnerships, or volunteer your time and skills. Your contribution can make a significant difference in the fight against hunger.
Source: https://projectbread.org
Photo Credits: @projectbread Instagram; @leftyathefork Instagram